These are the instructions to use for Users to sign up and create an account with BoostUp.
Sign-up for a new account by

navigating to this link

. If the

Registration Token

is missing, use this token -
d7eeb9f9710d711af4380361cd68fc491394d341bf688f33
2. Select Sign Up with Google or Sign Up with Outlook according to your email provider.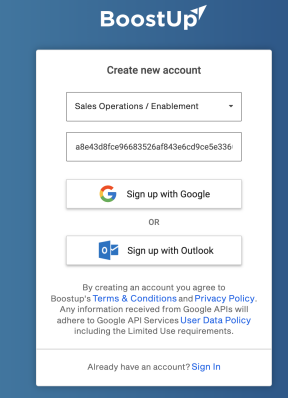 Follow instructions to go through the Oauth flow and create an account. 5. If you are the Salesforce admin, follow the prompts to complete the Oauth flow to connect Salesforce. Otherwise, skip the Salesforce connection step.

That's it, you are done!