Bringing in a new 'field' from SFDC
As you start to move out of implementation, you may come across additional fields that you'd like to include as either columns or filters in various tabs of the BoostUp Platform.
This can easily be done from the CRM Configuration page by following the steps below:
Navigate to Settings → CRM Configuration → Expand the table you'd like to bring in fields for (most common is opportunity or account fields)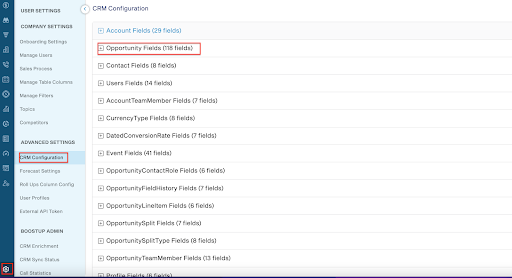 Once you expand the table you'd like to add a field for; select the 'add' button in the upper right hand corner:
From here, type in the 'Display Name' for your field (this is how it will populate either as a filter or as a new column). You'll also need to select the field type- for instance, is it a picklist, text, lookup, etc.).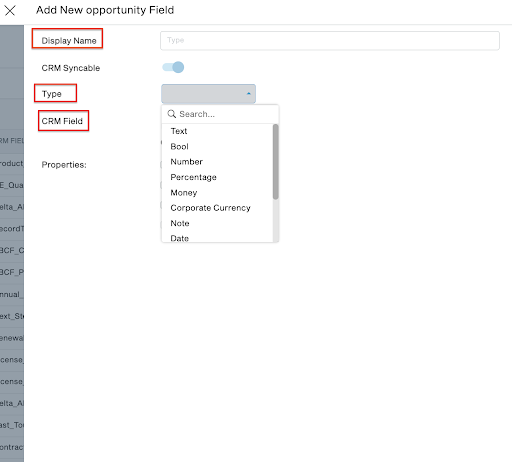 Additionally, you will need to find the actual 'field name' from the drop down (however it's noted in SFDC). Once selected; make sure to choose whether the field should be editable, sortable, or used as a filter.
Note*: If the field is to be used as a filter; the 'make it use as filter' box needs to be selected before adding the filter in 'manage table columns'.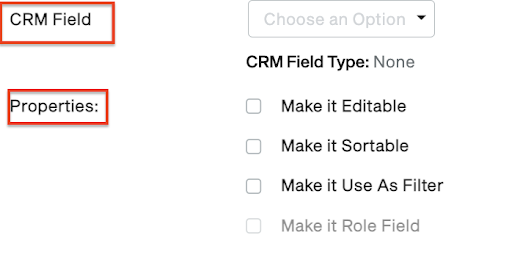 Make it editable: this will allow for the field to be editable within the opportunities tab- examples of these include forecast category, stage, close date, etc.
Make it sortable: allows for sorting on the actual field itself; we always recommend enabling this option
Once the field is added; you'll receive a 'this field was added to BoostUp' message in the lower left hand corner.
From here, you can add the field to either 'manage table columns' or 'manage filters' within the BoostUp Platform - either globally or within user profiles.
Please reference 'Manage table columns' for a step by step on how to add fields to multiple tabs in the platform.
The below video walks you through how to bring in a field from Salesforce:
Editing an existing field within CRM Configuration
Once you've brought in a field from SFDC, you'll always have the option to edit the display name as well as the properties. If the actual field and/or field type needs to be changed- this will require an escalation to your CSM; where they'll be able to enter in a support ticket: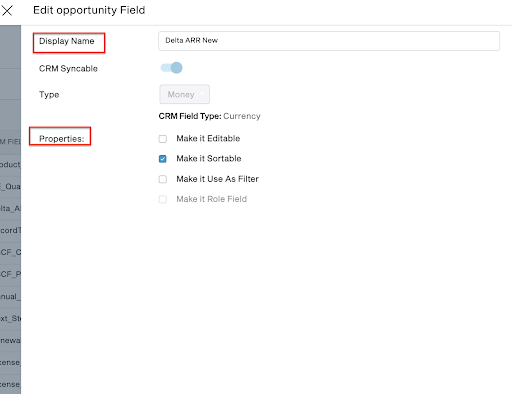 Check out the below video regarding steps on how to edit a CRM field: