Uploading Competitors into BoostUp
Boostup gives you the option to upload your competitors directly into the platform- any mention of competitors will then be surfaced within email exchanges to and from the seller. The client has the ability to assign a sentiment to that competitor (positive, negative, or neutral). BoostUp gives you the ability to filter based on Competitor as well- so that instead of having to click into the deal to see any mention of competitors; BoostUp will surface those opportunities in which a competitor was mentioned.
Feel free to follow the below steps in an effort to set up 'Competitors' within the platform:
Navigate to 'settings' → select 'Competitors' under 'Company Settings':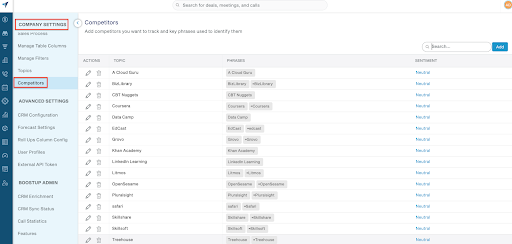 Locate the 'Search Bar' and type in the Competitor Name; make sure to enter the Company's name in the 'Phrases' field. You can also input any other words and or phrases that are linked to this competitor in the 'phrases' section.

Sentiment will resort to 'neutral', unless modified to reflect 'positive' or 'negative'. Our recommendation here is to leave as 'neutral' so that both positive and negative sentiment is recognized and surfaced within the deal insights/timeline view.
The competitors will be highlighted within the 'competitors section' in deal insights.
You also have the option to filter on competitors within the opportunities tab- it will then filter down to the opportunities in which that competitor is mentioned:

Check out the below video for a step by step walkthrough on how to create 'competitors' within the BoostUp platform: